How Much Will This Cost?
Well… it depends.  We can do competitively priced counter tops.  That being said, we've done jobs for customers that were more than $250 a square foot.  There are many factors that influence the final cost.  For example, raw material price depends on many things and our some of our clients may want more than the lowest cost.  We will help you navigate this process and give you an accurate estimate when you contact us.
Many Firms are Doing This Kind of Work.  Why Choose Stone Kitchens?
Well, first…you're right.  There are many options.  Our article on Granite  will help you understand the various products contractors may offer.    That being said, Here's our pitch…
We've installed custom surfaces in nearly ten thousand rooms and are consistently recommended by the area's top contractors and cabinet makers.  Houzz.com considers us to be in the top 4 percent nationally.  Our work is backed by the best warranty in the industry, and our digital process ensures precise, quality installations and finishes.  In addition, we have our Pennsylvania Home Improvement License, and can do plumbing, carpentry, electrical, and anything else necessary to leave you with a usable kitchen or bath when we finish.
Is Natural Stone Right for Me?
Natural stone is durable, stain resistant, and beautiful.  Granite specifically, is very popular for these reasons.  Historically, stone has been used for a long, long time.
Is Engineered Stone Right for Me?
Engineered stone is man-made.  Ground up quartz is mixed with resin and color(s) to create pseudo-stone designs.  By weight, the material is about 90% stone.  One of the attractions of engineered stone is that it is predictably consistent in both color(s) and veining.  Like Granite, the quartz and resin in engineered stone is non-porous so it resists staining.
There are so Many Choices.  What Counter top Material Should I Choose?
If natural stone is your choice and durability is a priority, granite is the way to go.  With the exception of the cheapest, man-made materials, you will find that natural granite is probably less expensive, too.  Having said that, there are hundreds of natural and engineered stone types available.
Do You do Surfaces Other Than Kitchens?
Yes.  We've done counter tops in nearly ten thousand different rooms.  Bathrooms, fire places, outdoor kitchens, rec rooms, bars, tables, fountains, monuments, showers, columns, restaurants, and even hotel installations are just some of our projects.  The cutting and finishing technology allows our artisans to do just about anything you have in mind!
Can't I Get the Same Thing at a Big Box Store?
Well, yes and no.  Make no mistake, there may be some advantages; location, all-in-one selling, competitive pricing etc.  But, if you check out their online feedback, you'll notice that service, poor results, and long lead times tend to drag down their ratings.  There are several important things to think about when it comes to big-box stores;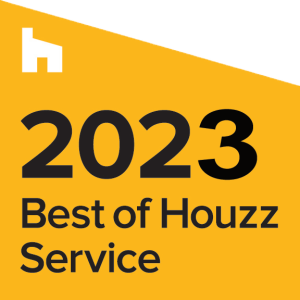 You can see a sample of your granite, but you won't see the actual stone until it arrives.
Not a big deal unless you chose something because of the green composition and the stone they selected for your job had more brown.  Every slab is different.  Even if they were cut at the same quarry.  Custom manufacturers like Stone Kitchens let you pick the actual slab.  We can cut the grain of the stone so that it flows in a way that enhances your project and we can make seams virtually disappear.  Fewer Seams. Better Fit.
Your design is done with a sales person; not the producer/installer.  You could have a different subcontractor for every aspect of your project.  Counter top,
carpentry/cabinets, plumbing, and electrical might be done by different people with different time schedules and unfortunately, different visions.   Remember, each of these components was awarded to the lowest bidder.
 The craftsmanship defines the entire project.  At Stone Kitchens, you can meet your artisans, now.
Are Granite and Engineered Counter Tops Hard to Care For?
No.  Every 3-5 years, you should seal it with a good stone sealer, and you'll receive a care package from us just for this purpose.  Generally, wipe the counter top clean as you would any other.  Mild citrus-free dish detergent and warm water works well as an alternative.  You should probably stay away from ammonia and chlorine based cleaners as they can activate the oxides in the stone and potentially alter the color of some compositions.
What if I Find a Problem After the Work is Completed?
Your satisfaction is our number one objective.  Its why our ratings on Google and Houzz are so high.  We have an unconditional one year guarantee and offer an extended stain warranty on all of our counter tops.
Can Stone Kitchens Help a Customer Who is Dissatisfied with Someone Else's Work?
You might be surprised how many times we've been asked this question.  Yes.  We've removed, reinstalled, refinished, recut, repaired, and even repurposed (to another area of the house) counter tops over the years.  We can help!
Honestly…  Fewer Seams.  Better Fit.