Hildy carries a pitcher of roses and a bowl of fresh lemons in her arms.  "I like color", she laughs as she enters her client's home.  This particular kitchen-area design project included several fascinating focus points;
A hand-made rustically geometrical chandelier; a beautiful custom-made cabinet; and a marble countertop with an under lit strip used as a night light.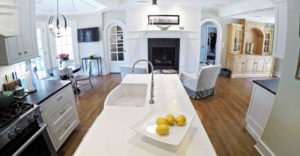 More pictures here.  "Most of my recent projects have been kitchens, and I just love it".
Hildy is the principal and owner of Hildy Heffernan Interiors in Sewickley, PA.  For the last fifteen years, she has designed rooms and homes for clients all over the Pittsburgh area.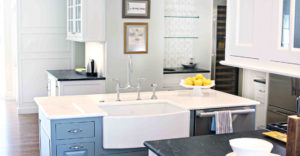 Growing up, she watched as her mother, grandmother, and aunt "always seemed to be rearranging furniture and redecorating their homes".  However if she had a genetic predisposition for creative design, it didn't become a passion until after she and her husband, Paul bought their first home.  It was at that point, Hildy realized that she saw space differently and could tell what was needed with ease.  Despite having a bachelor's degree in Business Administration, she returned to school and got her degree in Interior Design.  She began designing for decorator, Kathleen Clements and worked on several world class projects including a home in Beverly Hills and an apartment on Central Park in New York City.
At our second client home, Hildy is comfortable and friendly with the owner.  Her laughter and conversation apparently come as effortlessly as her design ideas.  It's quickly obvious that she's like this with all of her clients.  While this particular kitchen also uses marble surfaces, the similarities to the first home end there.  This is a large, open design with marble backsplashes, unique seating, and a pet/laundry room located through a Dutch door off the kitchen.  More pictures here.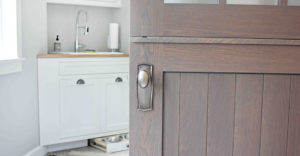 Hildy's visions require skilled application and she chooses her sub-contractors carefully.  She recommends suppliers to her clients based on "The quality of their craftsmanship and their willingness to make things right if something should go wrong.  It's how you handle the problems that are important.  I always want a satisfied client."
Whenever possible, Hildy Heffernan Interiors recommends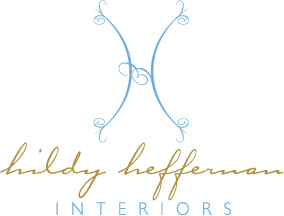 using Stone Kitchens in Hermitage, PA for custom stone and counter top work, "Because they do a fabulous job and stand behind their work.  Stone Kitchens always does a great job matching the seams which is particularly important in making the counter top look seamless."
Stone Kitchens is proud of our artisan craftsmanship and consecutive Houzz Customer Service awards.  We are honored to work with discerning professionals like Hildy Heffernan.  Contact us for more information.
Fewer Seams.  Better Fit.