In 2011, the Joanie Abdu Comprehensive Breast Care Center (JACBCC) opened at Mercy Health's St. Elizabeth Hospital in Youngstown, OH.  Since that time, thousands have received care at this highly regarded and nationally recognized center.
Ms. Abdu was a nurse at St. Elizabeth Youngstown Hospital for more than 20 years when she was diagnosed with an aggressive form of breast cancer.  Unfortunately, Joanie lost her battle with the disease and passed away on June 2, 1994; just 15 months after her initial diagnosis.
Dr. Rashid Abdu, Joanie's husband was instrumental in the creation of the JACBCC, which provides comprehensive prevention, early detection, diagnosis and support services.  This nearly $10 million dollar expansion included a wrap-around garden with winding walkways that pass flowers, trees, stonework and water features. This quiet, contemplative area is called the Joanie Abdu Serenity Garden.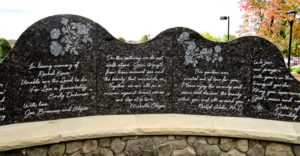 In addition, a grant-funded program named Joanie's Promise was created to provide breast care services for uninsured and underinsured men and women. The fund pays for diagnostic services and preventative screenings for qualifying households.
Annually the Panerathon, a run/walk event in Youngstown, OH contributes to the Mercy Health Foundation in support of the JACBCC.  This annual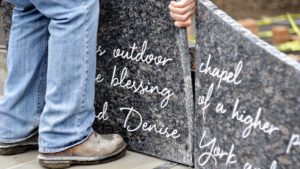 event attracts more than 10,000 participants and has raised over $3 million since 2010.
This year as part of Breast Cancer Awareness Month, Stone Kitchens would like to share our three minute video made as part of our contribution to the Joanie Abdu Serenity Garden.