Artisan Craft
Like all worthy artisans, we know how to use our tools. Some of the recent stone-work advances revolve around computing equipment used on location for pre-installation measurements.   Measuring and cutting tolerances are as tight as they've ever been and that's good news for homeowners.  Read more…
Natural Stone
The allure of natural stone is its beautiful, random composition  and color.  There's something about cut stone that we all love.  While granite has become the counter top of choice in recent years, we've done beautiful, natural stone projects in all sorts of places.  Read more…
Engineered Stone
Engineered stone utilizes ground up quartz mixed with resin and color.  There are infinite options in this category and the product is non-porous like granite and has a three dimensional appearance that resembles natural stone.   Color consistency is the biggest draw but quality craftsmanship and installation wins the day in the end.  Read more…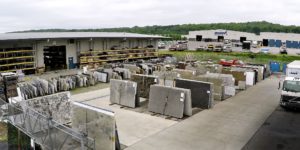 Stone Slabs
Stone Kitchens always has several hundred slabs on-location and we regularly bring in new inventory and can easily order anything you wish.  We also partner with Consentino, Mont Granite, Pittsburgh Granite, and Dente Trading in the Pittsburgh area.  Yes, we play well with others.  Contact us for more information.
Creative Products
While all of our products are custom,  we've crafted many unique, artisan stone pieces both indoor and out.  If you can imagine it in stone we can probably make it.  See More…
Warranty
We warrant your product completely for one year and we are obsessed with your satisfaction.   In addition, we offer a 2o year, fully transferable residential counter top warranty and 15 year commercial and industrial warranty.  Find out more…
Maintenance Products
Protect, clean, seal, and enhance your stone. Care for your surfaces with the best sealers available.  We offer a complete line of stone protection products.